About
What I like.
It's a little different.
There is a
pattern
here— check the
tag list
. Things change, posts move, sometimes they disappear— check the
archive
.
Feel free to remove my comments when reblogging, but please
do not
remove the source(s). Insert standard tumblr copyright disclaimer here. If you see your work here and you'd like it credited or removed, just
send me a message
. Be sure to include the post number (from the URL) so I can find it. Want to talk? Meet me in the
Conference Room
.
Not safe for children. Not safe for work.
Tags
Full Tag List
Visitors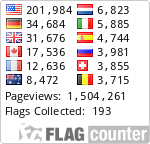 As of 6/19/2012.
People I follow