About
What I like.
There is a
pattern
here— check the
tag list
. Click images for hi-res. Things change, posts move, sometimes they disappear— check the
archive
. Please DO NOT REPOST these images. That means:
do not download and then reupload these pics.
I don't own them, but it takes a
huge
amount of time, effort and intestinal fortitude to run this blog, and this is the
one thing
I ask in return. Don't steal my effort.Feel free to remove my comments when reblogging, but please
do not
remove the source(s). Insert standard tumblr copyright disclaimer here. (
Contact
for credit or removal
only
.) Want to talk? Meet me in the
Conference Room
.
Not safe for children. Not safe for work.
Tags
Full Tag List
Visitors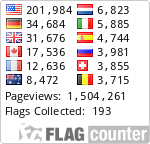 As of 6/19/2012.
People I follow